Elephant Hill
story: Peter Matusov
photos: Mike Gorbunov and Peter Matusov

Back to Day 1 | slide show | On to Pritchett Canyon


Had to get up early.
Elephant Hill trail is deep inside Canyonlands National Park - which is a long highway ride away from town.
After a brief struggle with the motel's waffle maker and box lunch shopping at the City Market, we met with the rest of the gang - Joe Aiello in a P38A Range Rover, Nick Markiw, Frank Gorcsan, and Larry and Carol Samons in D90s, Roger Lai in a D1, Richard in a D2 (who made it down to Moab from Minnesota) and his friends in a Dodge Dakota pickup truck. This day, our invaluable host - Dan Mick - picked a red TJ Rubicon from his collection for the ride. Soon, we were on our way South on U.S.191.
39 miles later, we turned West on Utah S.R.211 towards Canyonlands National Park. Dan Mick provided some great narrative on the CB, talking about the history of the area and pointing out some landscape features. The scenery had changed significantly - from red cliffs of Moab to high desert shrub and cedars, with aspens dotting creek beds in deep canyons. Still, far away, horizon was lined up with surreal geometry cast in red.
Already in the park, we pulled over the famous Newspaper Rock - where hundreds of years ago, Anasazi people left their messages etched in the rock wall. Nobody had figured yet whether these pictograms of desert life, animals, hunters, etc. formed some semblance of an alphabet, or the pictograms were actually the drawings of events, and were read exactly in this way. I am considering printing the photographs of the Newspaper Rock in large format and hanging them in my room or office - these images fascinate me! About the time when the blacktop was getting old, we reached a small parking lot - and the trail began its climb right there (about 38 miles from U.S.191).
I've cheated myself out of "trail shock" somewhat - by reading Charles Wells' Moab book before the ride. Despite being rated "difficult," the trail is, for the most part, fairly easy - that is, nobody ever needed a spotter or had an urge to get out of the vehicle and scout the road. However, the low range was necessary from the first 10 feet of the trail - and Richard had discovered that the range shifter in his Discovery 2, checked operational back home in Minnesota, absolutely refused to move. Without even getting from his driver's seat, Nick Markiw diagnosed it as a stuck range interlock solenoid on top of the transfer case - something that could, in theory, be fixed on the parking lot - but would take the best part of the day. The Disco was left behind, with Richard riding shotgun with Frank, and the group moved on.
The trail over and around Elephant Hill is formed by very steep and very tight switchbacks. Often, the switchbacks require you to execute multiple-point turns in very tight spots - so that you barely see anything but skyline beyond your truck's hood. One spot requires the driver to back down the hill from one switchback turn to another; in another, there is a very sharp left turn right after a very steep descent - it made for some white-knuckle driving when I found out that a single stab at the brake pedal would not impede the forward motion of the truck!
Soon, the trail descended into the grass-covered valley. Every now and then, we'd have to slow down to climb or descend some small waterfalls, and traverse fairly narrow slots between the rock walls. It was rather comforting to see Joe's Range Rover in front, knowing it's at least six inches wider than my Disco - but it sure helped to fold the rear-view mirrors.
Around one or two in the afternoon, we've stopped for lunch at a primitive campground. After a warm and dusty ride, it was very refreshing to sit in the shadow of the rocks completely surrounding the campsite. Nick inquired whether a faster way back existed - in anticipation of a late-night repair of Richard's handicapped Disco 2. Dan sighed and replied that two ways back existed - one the way we drove in, another - easier but longer, - but neither would take less than two hours to get back on pavement. The "other" way was chosen, and we enjoyed desert driving for a while. Along the way, we've stopped by several Anasazi farm ruins in Beef Basin - they merit their own dedicated trip, so one could sit in the quiet and enjoy the scenery for some time. There were still a few "staircases" to climb; the trail seemed to wind its way up to about 7200 ft before levelling off and heading down towards Hwy.211. I've started to notice some vibration under my left foot during the steep climbs - need to check when we get back.
It was already quite late when we came back to town. After a few pizza slices, we parted company - me to inspect the underside of my truck, Nick and Richard - to take apart the center console and get to the top of the transfer case to remove the pesky solenoid.
We've had a dinner at a pizza place; halfway through, I asked Joe where were we to go tomorrow. "Oh.. I don't know - Pritchett Canyon, most likely!" Damn... I've seen some videos, and heard a few stories...
Well, at least, my chore for the evening was short. It only took a few seconds under the truck with the flashlight to find that the left side tranmission mount was ripped apart. It was too late, and all the stores were closed. My plan for the morning included auto parts store or hardware store - for chain, or bicycle store - for anti-theft cable. We've dumped the photos from the cameras to the laptop, and lights went out.


Back to Day 1 | slide show | On to Pritchett Canyon

Southern part of Canyonlands National Park (extracted from http://www.nps.gov).

Quasi-3D image of the trailhead, extracted from Google Earth.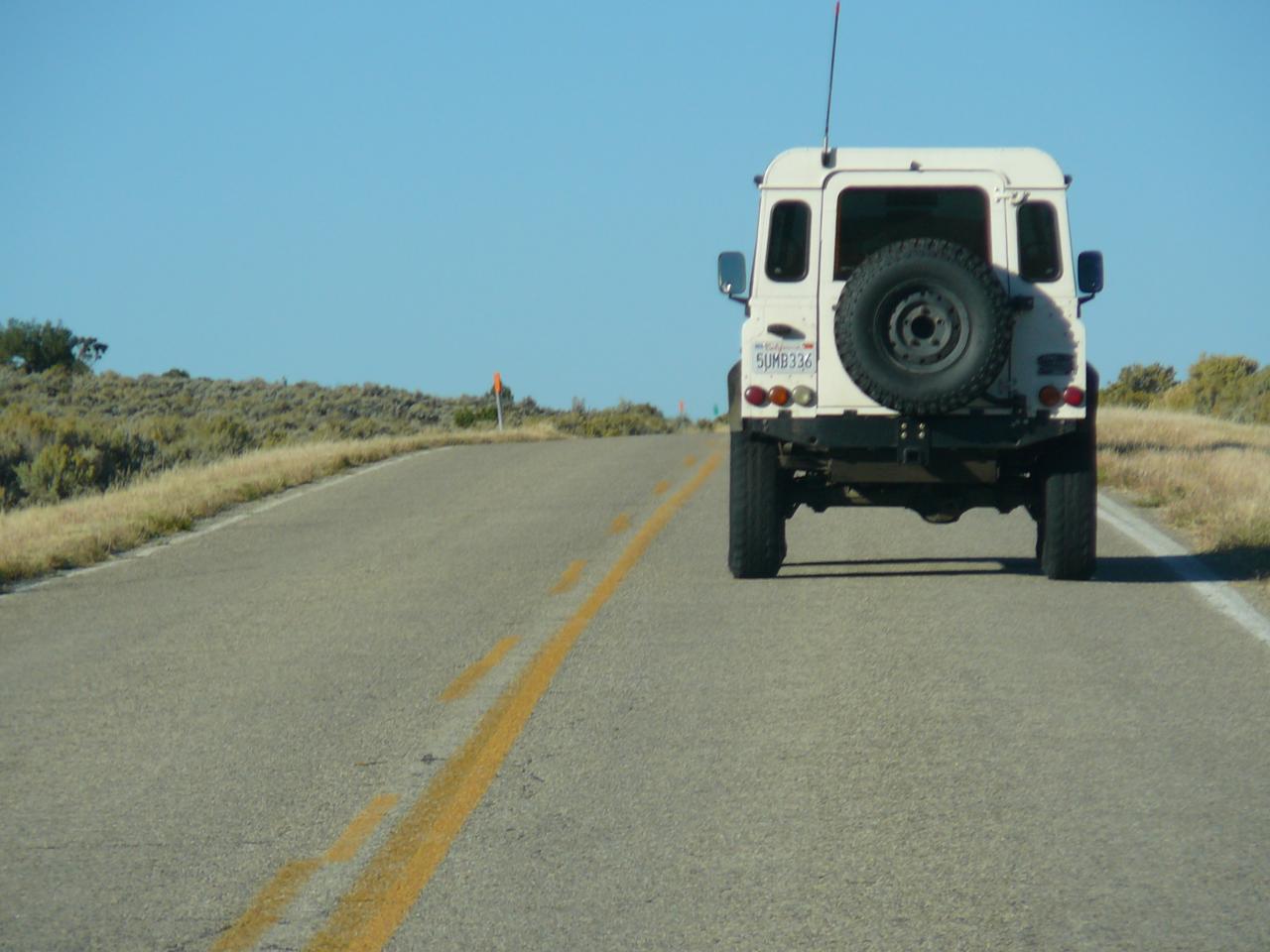 The trail is in about an hour and a half of highway ride from Moab.

The group stopped near the Newspaper Rock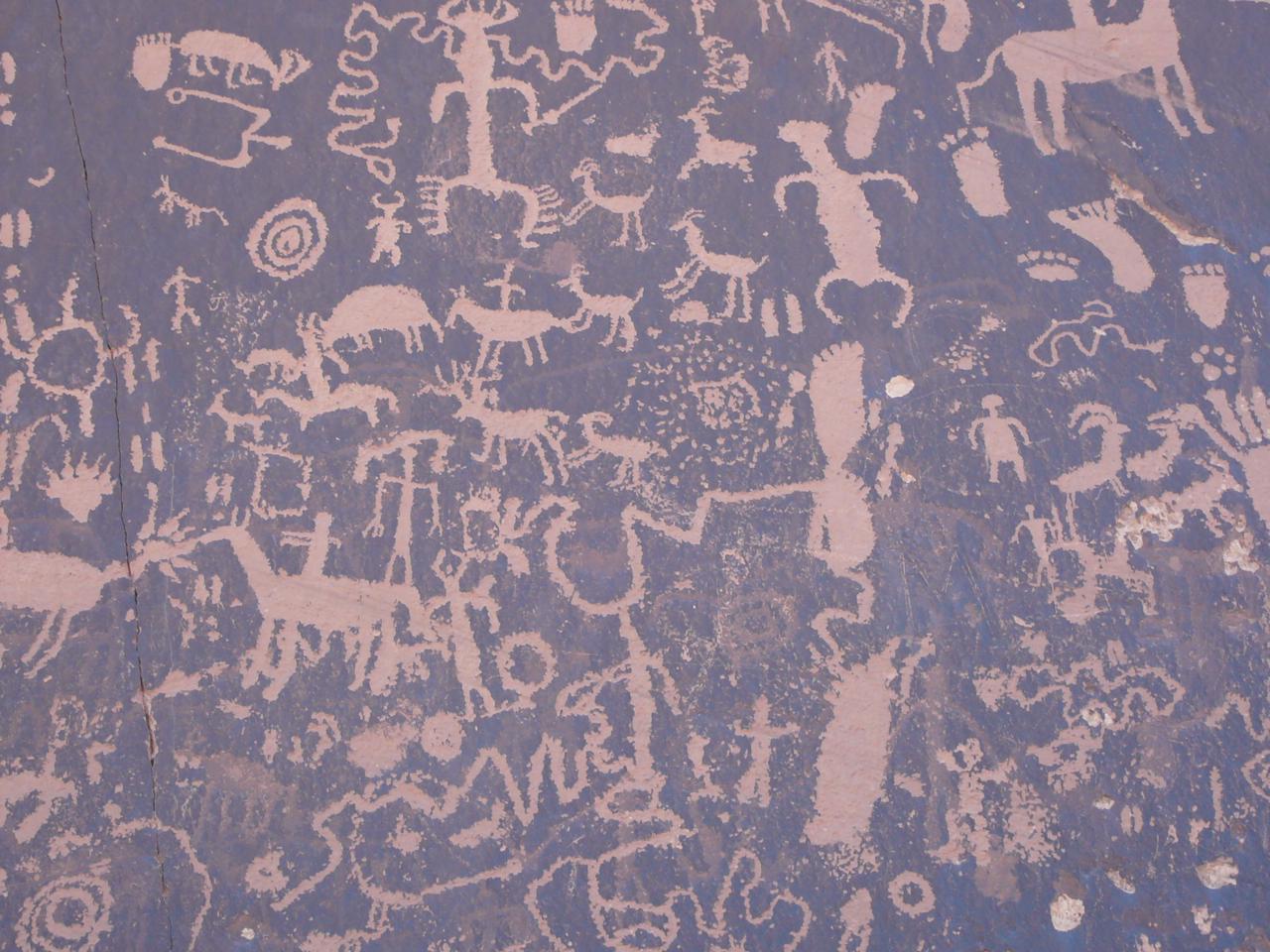 Newspaper Rock - breaking news, op-eds, and classifieds from hundreds of years ago.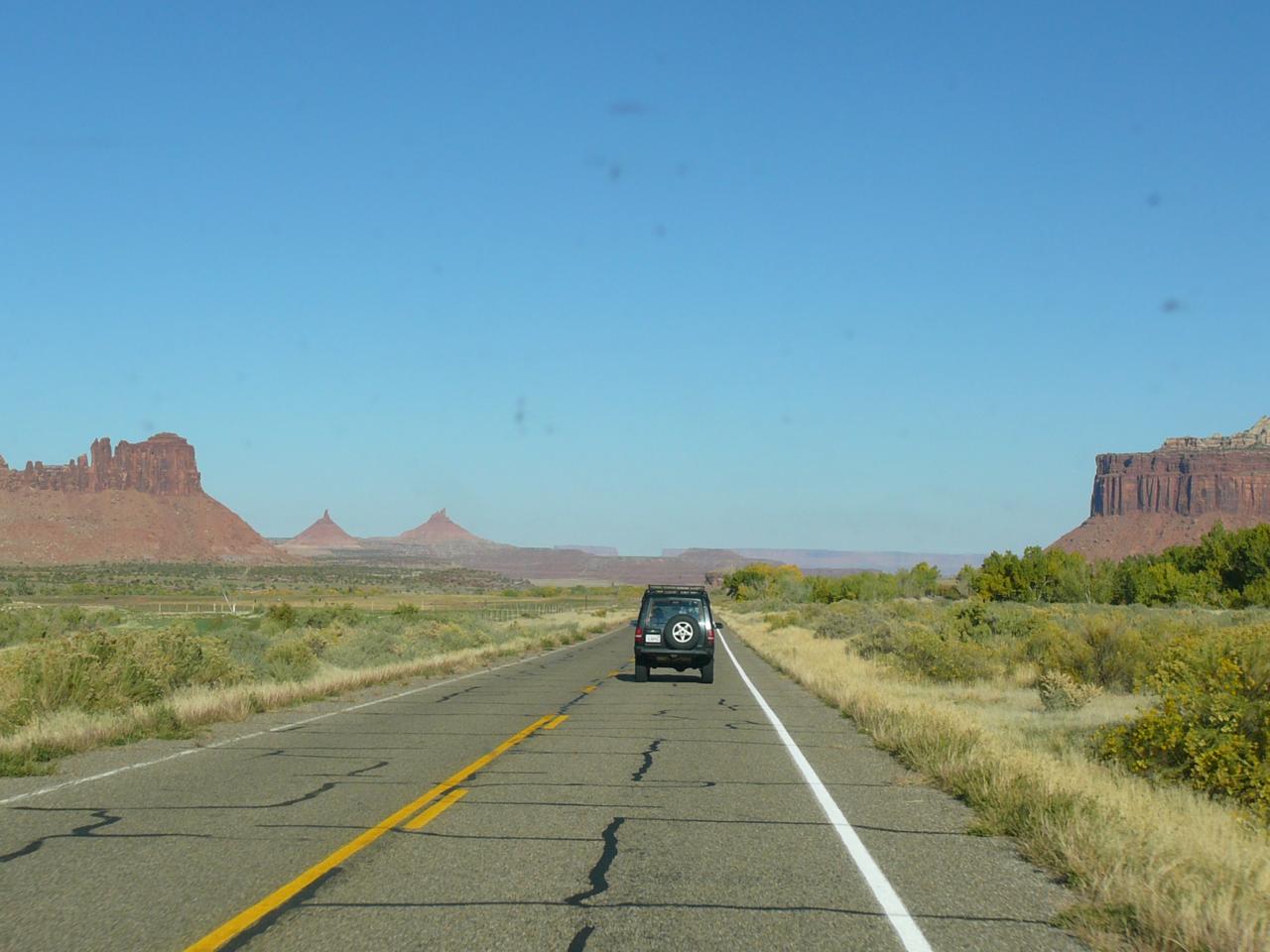 We'll be enjoying Roger's Disco derriere for quite a while.

Last chance for fuel - even at Death Valley prices.

The trail wastes no time before climbing up.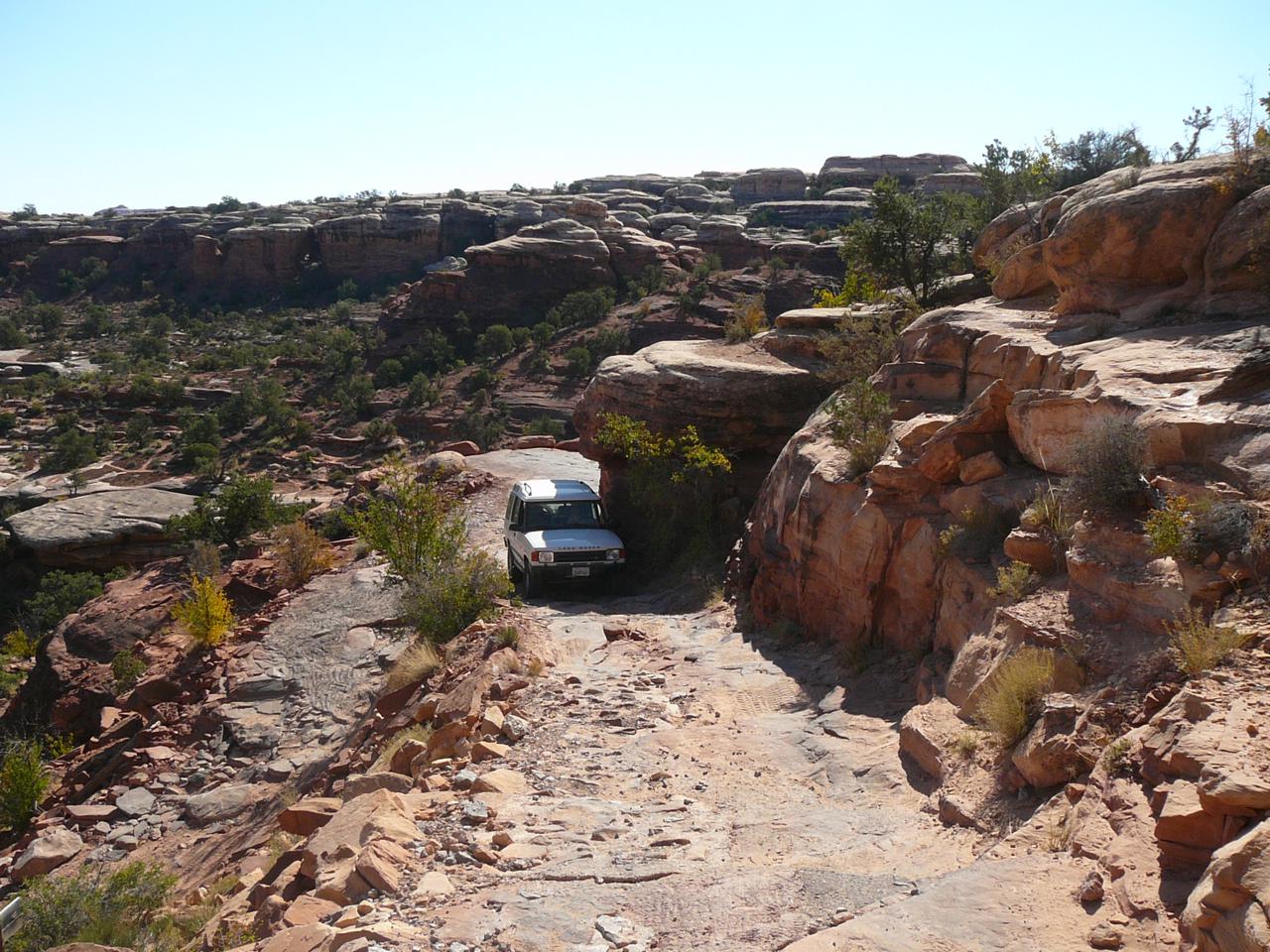 Famous switchbacks of Elephant Hill.

Camping can't get much better than here!

Coffee break.

The trail winds down into a grass-covered valley...

...and then climbs back out.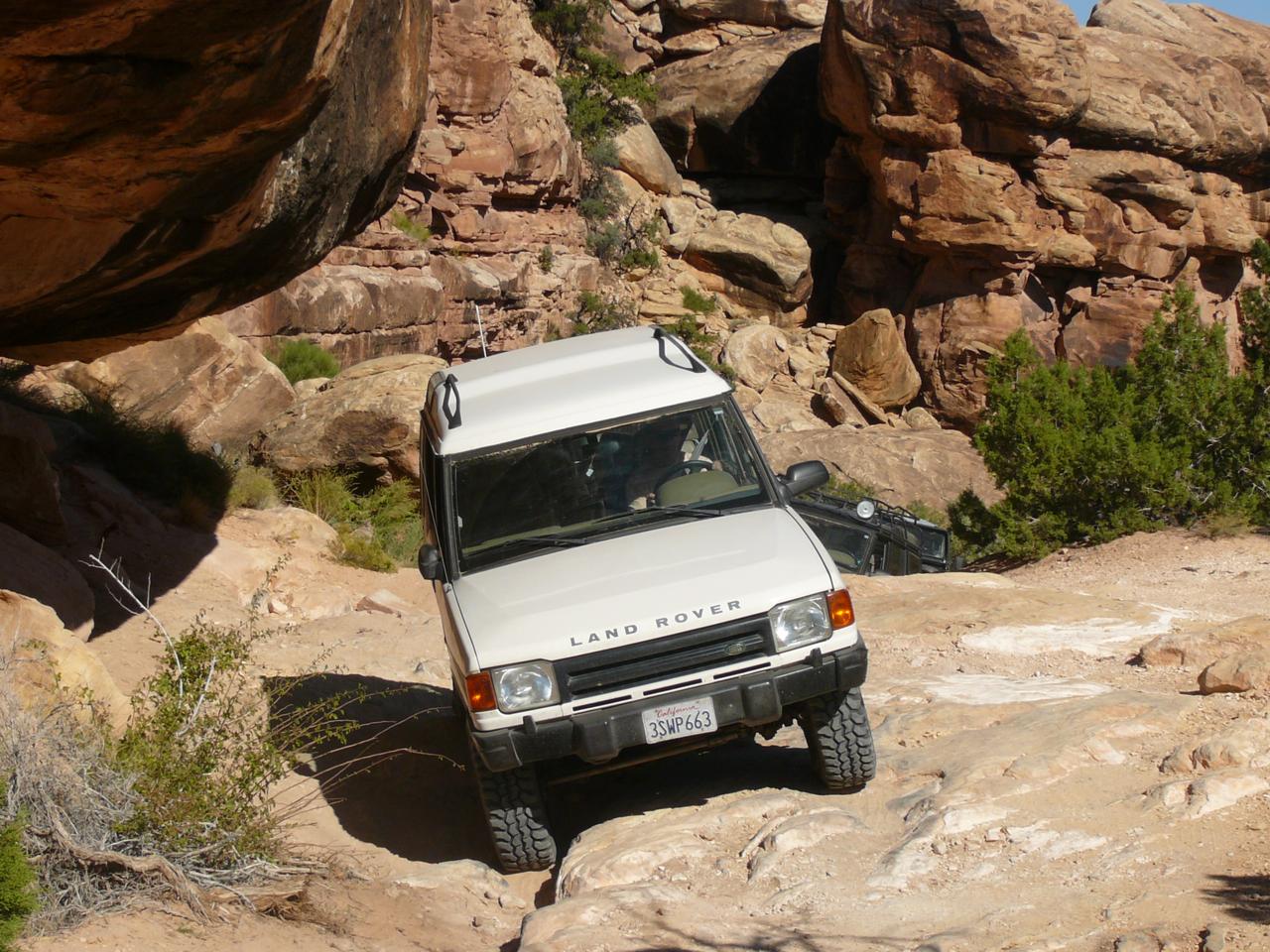 That rock sure looked closer from inside...

A P38a is surely a big truck... wide, too.

The Needles.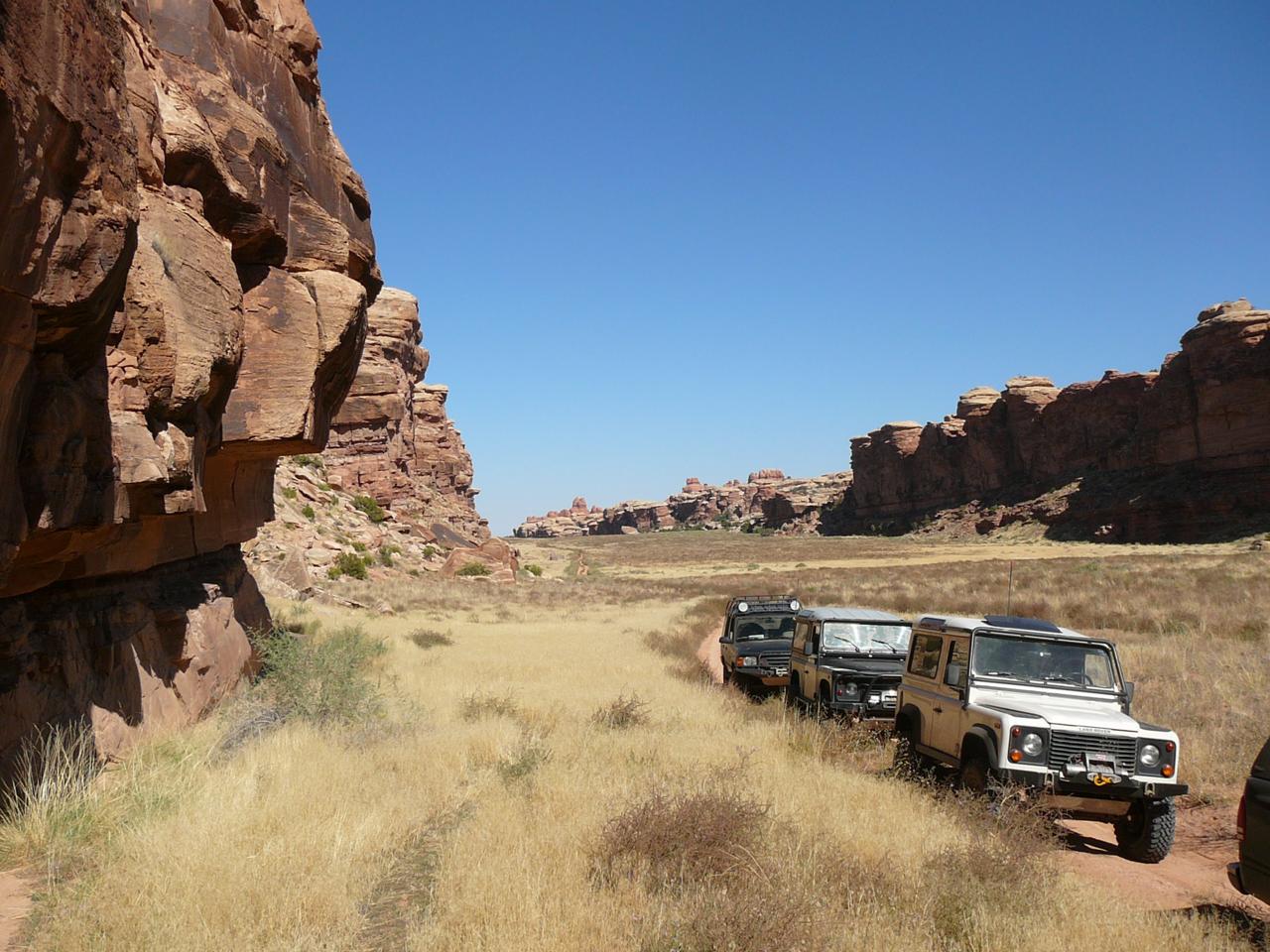 Rest stop in the valley.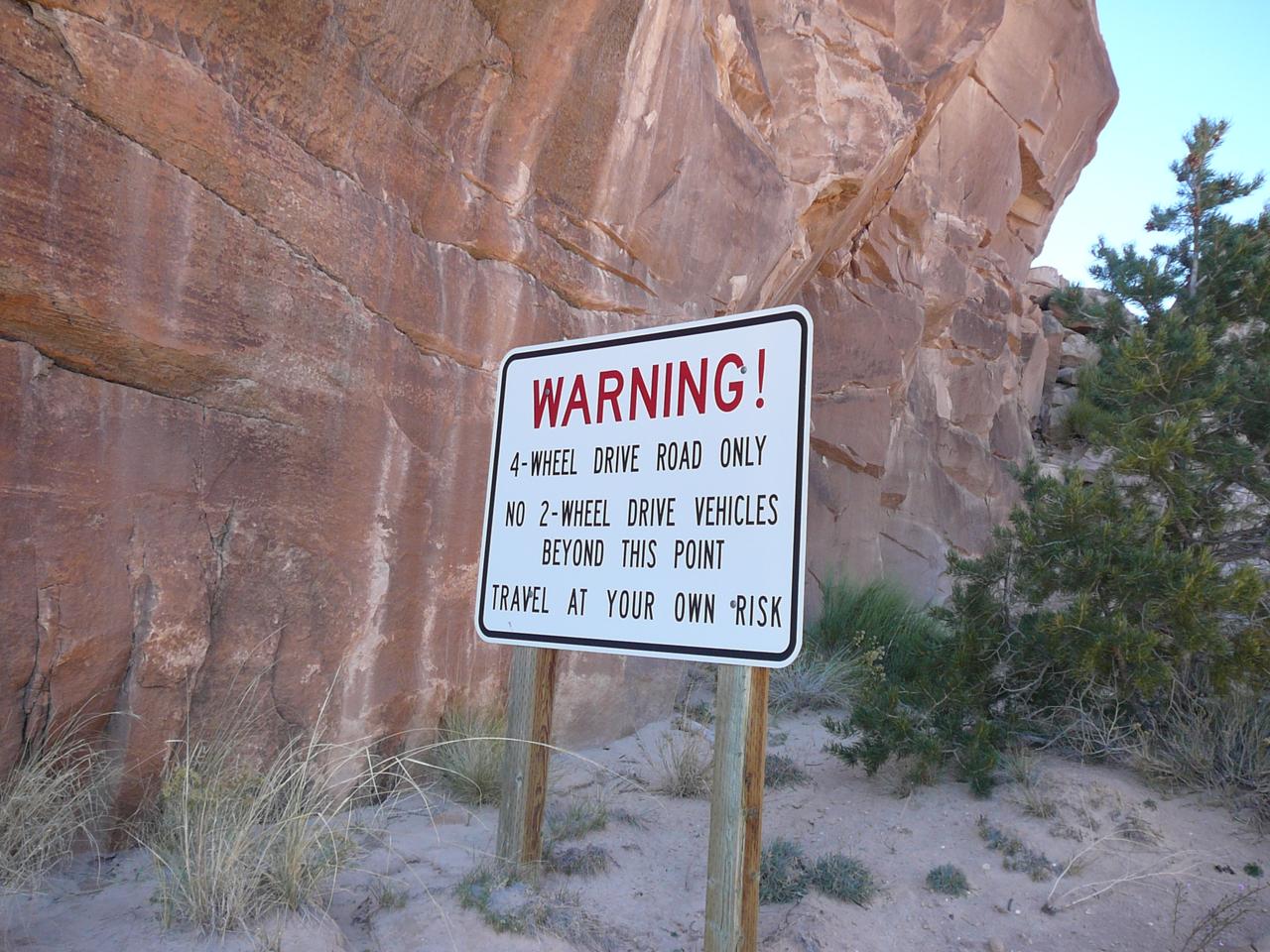 Oh... didn't know it was still a highway before!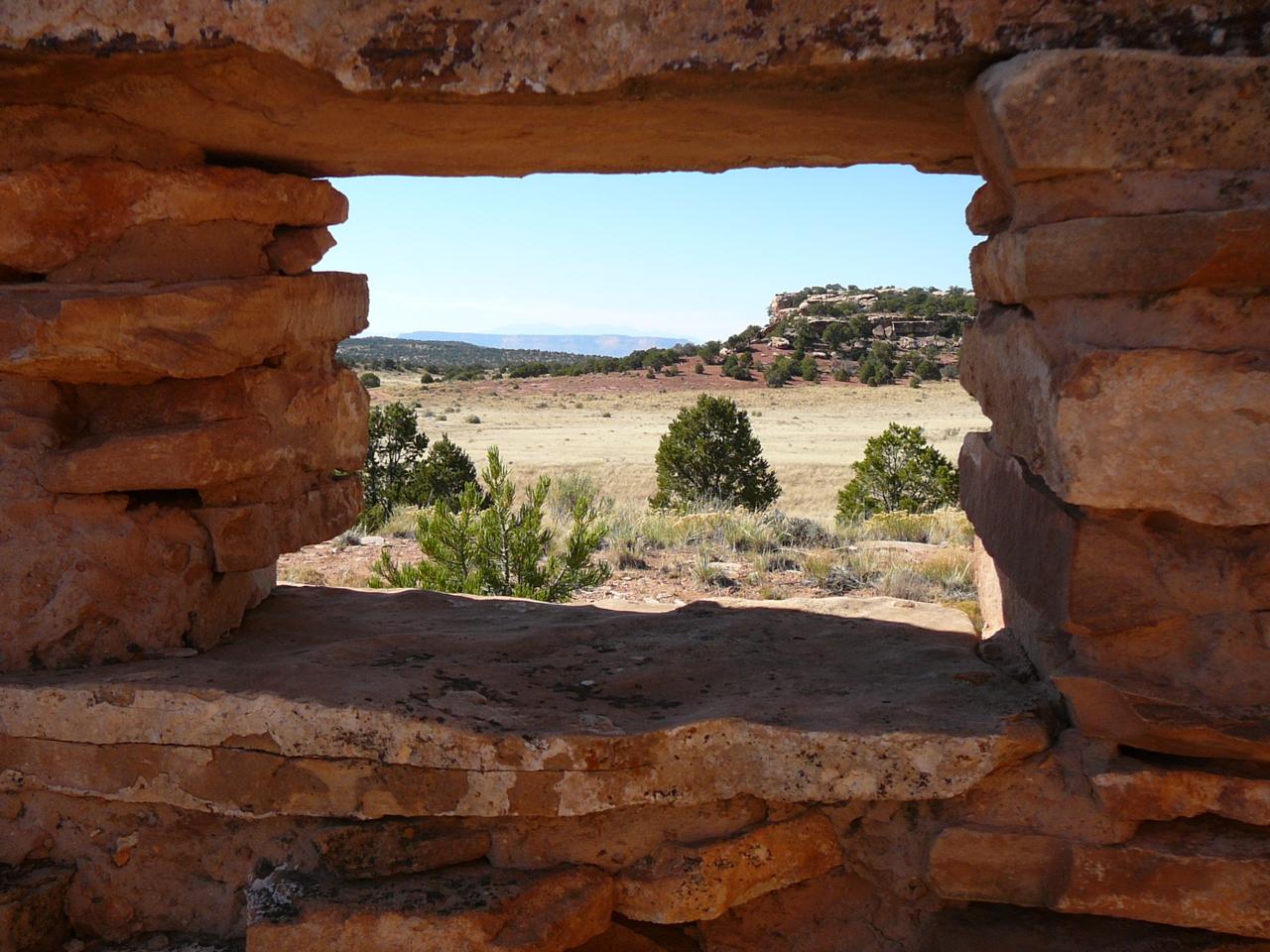 Anasazi house ruin: a view from the window.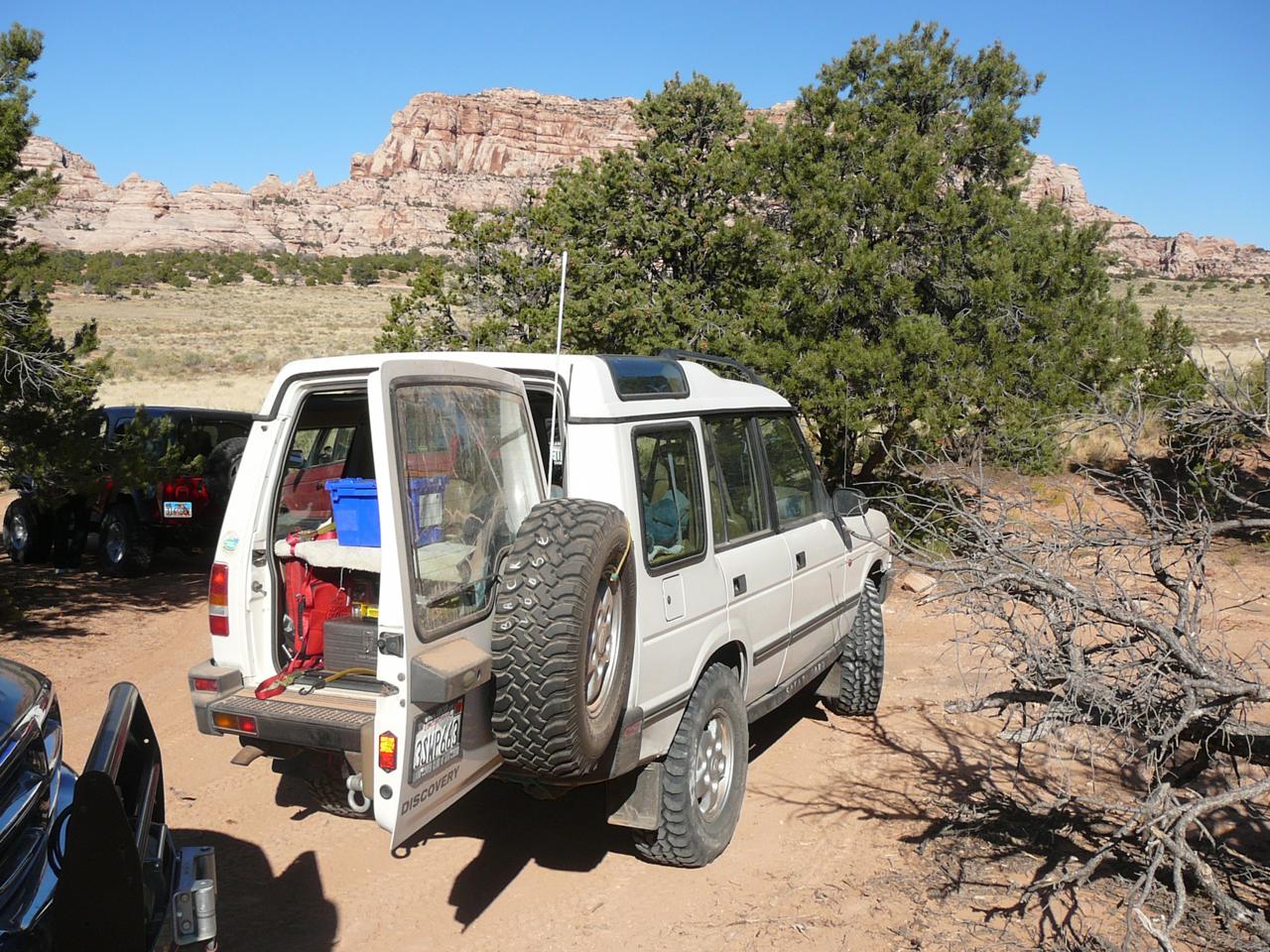 First (and the last) flat of the trip: tire repair kit got its only use.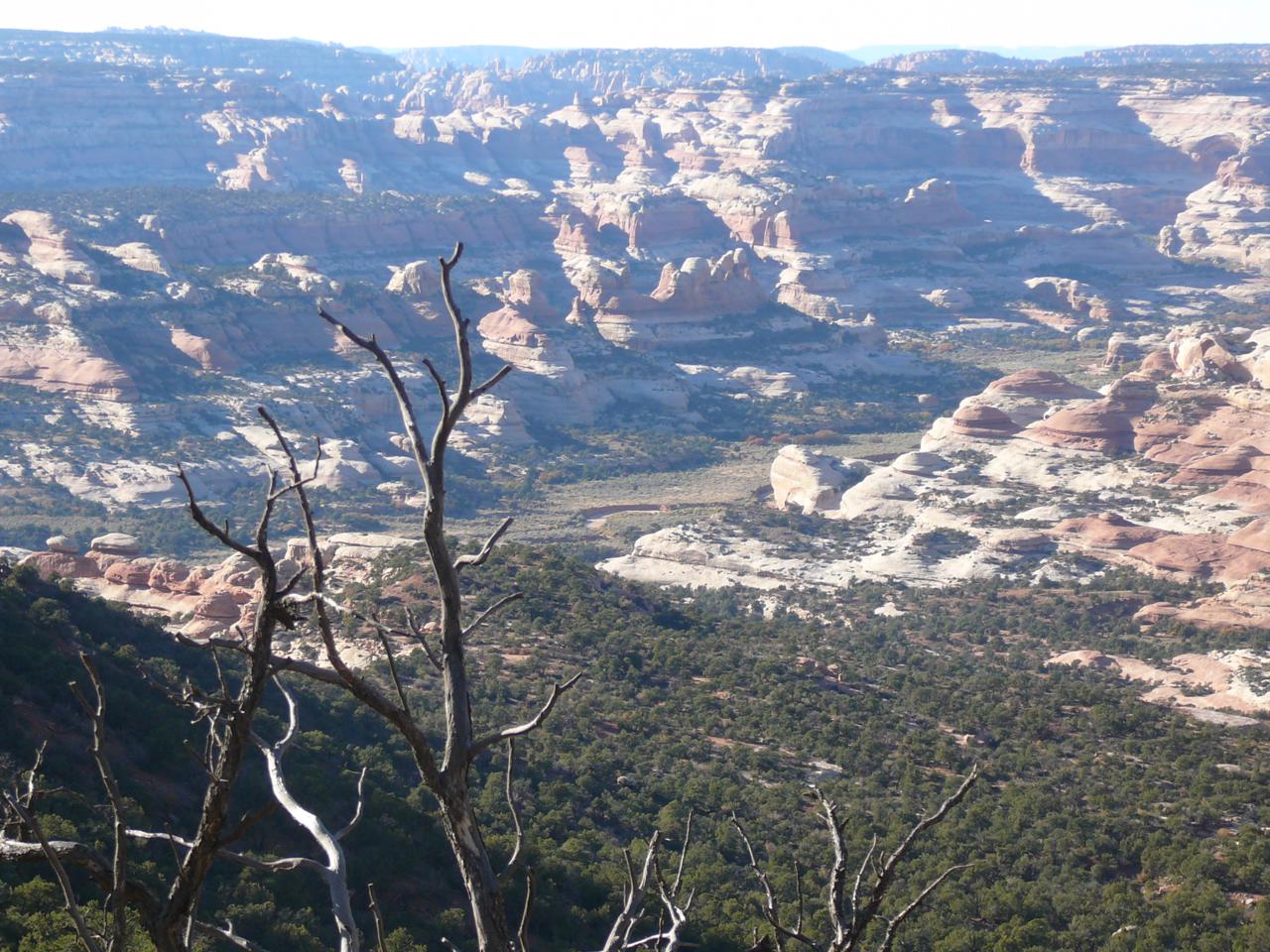 No, it isn't Grand Canyon - it just looks that way.